Most CBD companies will ship you a bottle of CBD oil – even if it's illegal in Idaho. After chatting with numerous people all across the US, it's safe to say that most people don't know that full-spectrum CBD oil is illegal in Idaho.
So! When you're scrolling through your Facebook feed BE CAREFUL from all those CBD companies and different affiliate salespeople trying to get you to buy their – potentially – illegal CBD oil in Idaho.
CBD oil is on a giant upswing in popularity. Many people on social media are very quick to COPY & PASTE a quick link to "their" CBD brand they're involved with as a sales rep. There's nothing wrong with this, but, make sure you know how to read a lab test before taking anyone's CBD oil recommendations, even that of a close family member. You never know until you personally verify the lab test results.
A lab-testing HORROR story from a CBD brand selling on Amazon
To make sure there are no detectable amounts of illegal THC in the CBD oil you're about to have shipped to your home in Idaho, make sure you verify the lab tests for CANNABINOID POTENCY.
And then make sure the CBD company paid the lab to have ALL the other important other lab tests.
Quality labs tests CBD oil for.
Cannabinoid potency (MOST IMPORTANT)
Four different types of illegal THC (D8-THC, D9-THC, THCA, & THCV)
Pesticides
Microbial
Heavy metals
Appearance, color, odor
Terpene profile
Residual solvents
One particular CBD company really does a scant (barely sufficient) job at lab testing. Directly on their website, they make the explicit claim that they performed a cannabinoid potency analysis.
Upon looking at their COA, they didn't really even test the cannabinoid potency at all. The only listed cannabinoids information — POTENCY RESULTS — Full Spec Hemp Extract and <0.3% THC.
That was the only information this company would give me through email communication. The nice lady told me if she gave me that information, they couldn't their CBD oil sell on Amazon anymore.
A quality potency lab test will test for at least 12+ individual cannabinoids and then list exactly how much of each cannabinoid is detectable.
The most common cannabinoids a quality lab tests for are D8-THC, D9-THC, THCA, THCV, CBD, CBDA, CBDV, CBC, CBN, CBG, CBGA, etc.
There are four different types of THC and, although Idaho doesn't specifically – yet – state all four of the different types of THC are illegal, it's probably best to make sure your CBD oil doesn't have any trace amounts of any of the four different types of THC.
What types of CBD oil is legal in Idaho?
Let's face it. Idaho has the MOST strict hemp and cannabis law of the land.
This can be a blessing in disguise because Idaho is more patient and wants to make absolutely certain that they are doing the right thing by only allowing the very best quality of CBD to enter Idaho.
There are two types of CBD products that are legal in Idaho, but I only recommend one type.
The only type of CBD product I recommend for Idaho residents are broad-spectrum CBD products.
Since anything with THC in it is illegal in Idaho, full-spectrum is off the table. Until the Idaho government, not only changes its legislation but gets enough verified written signatures from the near 1.8 million Idaho residents – full-spectrum THC oil is illegal in Idaho. 
The only other type of CBD product — that is very low quality for specific reasons we'll discuss below — are single-molecule CBD products.
I do "not" recommend CBD isolate. NEVER. Let dive in and see if we can quickly see why full-spectrum CBD and CBD isolate products should be avoided in Idaho.
Is Full Spectrum CBD Oil Legal In Idaho? No. But it's EVERYWHERE. And some (if not most) of the CBD company's you can quickly Google, still ship full-spectrum CBD products to Idaho, even though it's illegal.
There are three types of CBD oils. 
Full-spectrum (Illegal THC)
CBD isolate (SUPER low-quality)
Broad-spectrum (BEST type of CBD oil available for Idaho residents)
The illegal CBD brands are companies that produce a full-spectrum CBD oil. Full-spectrum means it has THC in it – even if it's compliant with federal law and only has less than 0.3% THC.
Idaho CBD law says if the lab can detect any amounts of THC, Idaho considers it to be illegal marijuana.
Legal CBD brands are both broad-spectrum and single-molecule CBD oils.
The lowest quality of CBD oil is single-molecule products.
The main reason why single-molecule CBD oils are not recommended is that they have a very narrow window of effective use.
This means single-molecule CBD oils require a VERY precise dose to even receive a little bit of effect.
The best type of CBD oil for Idaho residents are broad-spectrum CBD oils.
The main reason why broad-spectrum CBD oils are the highest recommended for Idaho is that they're both legal and they still contain up to 112 of the 113 known cannabinoids.
Even though there's exactly zero THC in broad-spectrum CBD oils, it still provides major benefits of the entourage effect.
The entourage effect is known as cannabis synergy where cannabinoids tend to work better when there's more variety.
Single-molecule CBD oils do not get any benefits of the entourage effect, which is the primary reason why we recommend broad-spectrum CBD oils.
What local stores are selling legal CBD in Idaho?
The Boise Attorney Group published an article saying CBD is legal in Idaho only if there zero THC and several other technical things.
In a previous article, I publish the links to the official Idaho state law documents, as well as the federal law.
I then go into extensive detail dissecting as much information that's available to make sure the CBD oil I recommend is not only compliant with all local, state, and federal law.
But also making sure to recommend the highest quality broad-spectrum CBD oil possible.
Which there might be higher quality CBD brands than I'm currently recommending.
In the Boise Attorney Group article, they link to a few local areas where you can purchase CBD products in Boise Idaho. Some products might be ok and legal for Idaho residents. My only concern as I was looking at some of these websites were MOST of the CBD products recommended by the Boise Attorney Group didn't have recent lab testing results available to quickly view on their website.
One CBD oil company the Boise Attorney Group recommended carries an illegal CBD oil for Idaho residents. After looking at this particular website, I found a few full-spectrum CBD oils containing illegal THC. Even though they recommended some CBD products that were legal in Idaho, it's still a little challenging to find a potentially quality broad-spectrum CBD oil in Idaho.
After looking at all the local CBD stores in Boise, I found a few who carry broad-spectrum CBD products. However, I didn't find a recent COA on any Boise CBD store.
This may not be a full list of CBD companies in Idaho currently selling CBD in Idaho. CAUTION – ALWAYS double check the COA.
A few places in Idaho appear to have full-spectrum products. Make sure you're purchasing quality broad spectrum CBD products.
If you're looking to get a job in the cannabis industry in Idaho, try not to limit your thinking to just getting a job in the cannabis industry in Idaho.
There's nearly endless online job options that can get you started working in the cannabis industry quickly.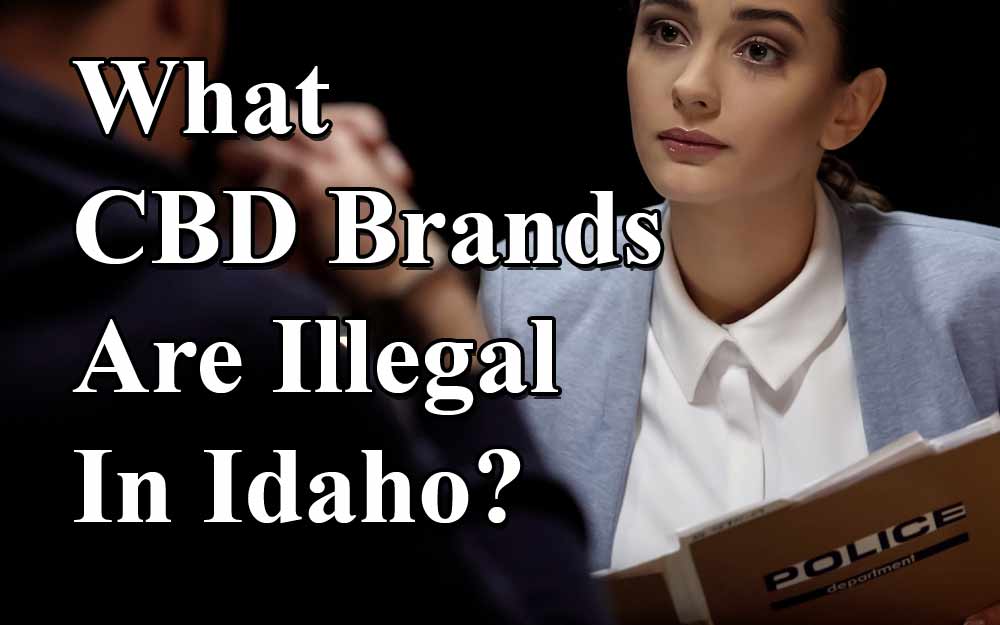 What CBD brands are illegal in Idaho?
With the fast-growing number of CBD brands on the market, it can be challenging to sort through all the different CBD brands and find a good quality oil that's both legal in Idaho and provides the benefits of the entourage effect.
List of illegal CBD brands in Idaho.*
Lazarus Naturals
Nuleaf
CBDistillery
HempWorx
Charlotte's Web
Bluebird
Veritas Farms
Receptra Naturals
Mana Artisan Botanics
Zion Medicinals
Flora Sophia Botanicals
Spruce
Fab
Kanibi
SabaiDee
CBDfx
Most CBD oils on Amazon
And much much more
* Some brands listed above may technically sell legal CBD brands in Idaho. But. I personally believe CBD isolate products should be illegal, for reasons I'm open to deliberation.
Since there are SO many CBD brands out there, it makes it very challenging to sort through what's legal for Idaho residents.
Keep in mind, a good majority of CBD brands that use the marketing words THC-FREE may still contain trace amounts of THC.
Be VERY careful when trying to find a CBD oil that actually has 0.00000% THC in the CBD oil.
Also, some of the above-listed brands do have other CBD oils that are labeled as THC-FREE, however, they are explicitly labeled as CBD isolate.
Furthermore, what's interesting about some CBD brands is they don't let you see the lab-test until after you've purchased their CBD oil.
Thus basically wasting everyone time, if there happens to potentially be something not quite right – such as testing positive for THC.
Another common word for full-spectrum is Phytocannabinoid Rich (PCR) and is also illegal in Idaho.
Why are all CBD oils listed on Amazon illegal in Idaho?
The primary reason why any CBD oil listed on Amazon is illegal in Idaho is that they're all full-spectrum CBD oils.
A much larger issue with CBD brands listed on Amazon is the complete lack of transparency, especially in their lab-testing reports.
One CBD company — I won't call out a single brand — highlighted on the home page of their website that they were TRANSPARENT.
However, upon looking at the lab-test Certificate Of Analysis (COA), they didn't list any information about the specific cannabinoids present in their CBD oil. 
Not only was this not okay, but, I also went a step further and contacted the lab they used to test their CBD oil.
Upon inquiring the lab, they responded to me and said that the CBD company's COA was not verifiable.
This can only really mean one thing. That this CBD brand illegally forged a fake lab-test.
Also, this fake COA didn't even tell you what cannabinoids were in the oil.
Just now, I went back to this CBD brand's website to see what information their recent COA has on it.
What I found on their COA, or rather, what was lacking on their COA was the name of the lab they used to test their sample.
This is a bit odd, considering nearly every other brand, who had a quality COA, listed the lab that tested their oil.
The reason to list the lab on the COA is so you can contact the lab and have them verify that it's a legitimate COA.
The only company name on the COA, of this particular CBD brand, is the logo and name of the CBD company.
What CBD brands are legal in Idaho?
Since the best CBD brands are broad-spectrum products, it's rather challenging to find a good company that consistently produces a broad-spectrum oil – without either popping positive for THC or falling into the definition of a CBD isolate product.
I'm also on the hunt for a better quality CBD oil. My personal criteria for what I believe to be the best and most effective CBD oil are definitely those that have the most variety of cannabinoids.
Having a large variety — and quantity — of different cannabinoids is best for producing an optimal entourage effect.