Users have suggested that CBD oil for weight loss is a revolutionary way to reach your body goals. Of course, the entire regimen can't rely on a CBD infusion alone, but why refuse natural assistance?
Use Our FREE CBD Dosage Calculator
The ideal dose is individual, changing with weight, tolerance, and other substances you take. Find it, though, and a simple drop on the tongue could slash hunger and get your metabolism humming with activity.
Should you get seeds with high CBD content and start brewing up a source of slenderizing liquid? There's no reason not to give it a shot, but proper usage is key to reaping its benefits.
How to use CBD to lose weight, and how much does the trick? Let's explore the compound's connection with metabolic processes and zone in on the dosage.
How to Use CBD to Lose Weight?
First off, CBD dosage for weight loss depends on why you're using the oil.
Cannabidiol affects the system in several ways that could make you lose excess fat.
Here are its four best-corroborated functions related to weight-shedding:
Note: If you have a specific issue that might cause mass gain, you'll use the amount of CBD specific for your needs. Please consult a doctor in this case.
We'll continue breaking down the dosing for those using this cannabinoid to curtail hunger and stimulate normal metabolism function. The figures apply to people with good general wellness looking to slim down sooner.
Dosing CBD for Weight Loss
The perfect CBD dosage for weight loss relies on several factors:
Your current weight—heavier people often need more
Your tolerance—some need less to feel the effects
Health conditions—especially those causing fat gain
Medications—some drugs activate or inhibit CBD
Learn more: CBD Drug Interactions With Prescription Medication, Vitamins, OTC Meds, & Any Other Supplement
Also see: Does CBD Show Up On A Drug Test? Critical Data You Need To Know
The trick with CBD oil for weight loss is finding the minimum dose that produces desired results. It can grow as you develop tolerance, but going slow is the best way to avoid side effects and optimize usage.
Start with 20 mg of product per day. This figure is lower than most people use, but it lets you modify and test the response.
Here's a step-by-step guide:
Journal how hungry you feel at the same time every day. Stay consistent with exercise and nutrition habits. 
Write for a week before taking CBD.
Take 20mg a day throughout the following week, following the same statistics.
If you're not seeing any effects after seven days, increase the dose by 5mg. 
Use this new dose for a week.
Repeat the previous step until you see results.
Finding your dose of CBD oil for weight loss incurs much tracking work. We'll end with three handy tips to simplify the task.
Handy CBD Dosage Tips
CBD comes in many forms and dosage teachings, each suitable for a different condition. Here are three rules of thumb for pound-dropping.
Since you're not taking this compound for its immediate impact, using edible CBD to lose weight is often more effective.
The reasoning behind this rule lies in absorption.
The effects stick around over a prolonged period when your body digests the compound. You take advantage of the potential relationship between CBD and appetite suppression for each meal, not just before lunch.
Now, the matter of timing.
Take a dose of ingestible CBD at least two hours before your largest meal. Edibles take longer to kick in than their inhaled and sublingual counterparts. Effects intensify over the 90–120 minutes, peaking when you're supposed to eat the bulk of your daily calories.
If inhaling CBD, have a dose around 20 minutes before the main meal.
Finally, you have to know whether your CBD oil for weight loss works. Gauging its efficiency requires patience, mindfulness, and consistency with every other element of your fitness.
It's important to note that CBD won't completely turn you away from food. Your body also won't burn off excess pounds in a week. Its assistance is slight, but every bite not taken brings you closer to your dream figure.
Losing Weight with CBD
In the end—we can't tell you what the ideal CBD dosage for weight loss is. We can only instruct you to try 20 mg and slowly work your way up. It won't be long before you enjoy its full influence.
Start low, go slow, and don't forget that CBD is only an assistant. Keep following a diet and exercise regimen that help you maintain a caloric deficit. That's the only reliable way towards sustainable, consistent results.
Make your own CBD oil for weight loss, have a fresh stash throughout the journey, and let this compound facilitate your fitness goals.
Jennifer Gallagher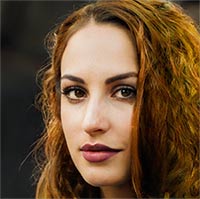 Jennifer Gallagher, an experienced cannabis grower at SeedSupreme Seedbank. During a 7-year career in the marijuana growing business, Jennifer has gained a high competence in this field. As far as weed is concerned, she knows it all inside out. Jennifer is an expert in pot-growing, as well as cannabis types and their effects. She's also familiar with all legislation nuances.