Contact Hemp Writer here to get started with PPC & OTT — no-limit CBD ads. Guaranteed.
Everyday, new CBD ads are popping up on Facebook — even though dozens of your ads keep getting rejected. Why can't you ever seem to get your ads approved?
CBD ad approval on Facebook requires numerous factors. Critical complex elements in ad approvals include NOT using certain words, large minimum monthly spend, CBD product restrictions, compliance, relevant & functional landing page, account age, CBD not in URL or ad, and potentially much more.
Let's take a look below and see if we can reverse engineer how other smaller and larger CBD companies are getting ads approved by Facebook.
Can you even run ads for CBD on Facebook?
Every day, most of us within the CBD space see several companies advertising CBD products that appear to conflict with Facebook's ad policy.
Since we've all seen CBD ads on Facebook, there is definitely a possibility that you too can run CBD ads on Facebook.
Even though many CBD ad agencies have figured out a secret recipe for consistently getting CBD ads approved by Facebook, the good news is that success leaves clues.
To begin understanding how to get CBD ads approved by Facebook at scale, the foundation begins with compliance — across your entire brand (and/or brand segment).
Figuring out how to get ads approved, is only the beginning.
The next step is then to build audiences, create an opt-in offer to build your list, and invest your time in following up with the audience you continue building.
Facebook ad views and engagements are both powerful and short-lived.
The hard lesson is in following up after you've spent time and money building your list.
Start with building your list via value-driven content while following up with sequences that tell & sell the core stories of your CBD products.
Is "Boosting" A Post Considered Paid Advertising On Facebook?
Yes. Boosting a post on Facebook is similar to paid sponsored advertising, but not technically exactly the same as a sponsored ad.
By attempting to boost a CBD post, you may be at risk of the Facebook team reducing your organic search reach.
Boosted posts can get a higher rejection rate than other Facebook ad campaigns.
Facebook ads CBD policy
Facebook's ad policy vaguely states you're not allowed to promote drugs whether it's prescription, illegal, or recreational.
Since Facebook and only one federal agency (FDA) are treating CBD as a drug, you're not necessarily "technically" supposed to directly feature CBD products in your ads.
Learn more: Is CBD Legal At The Federal Level? FDA, FTC, DEA, TSA, USPS, VA, Etc
Recently, Facebook explicitly started allowing some ads for hemp topicals, hemp ingestibles, and topical CBD products in landing pages.
In short, if your landing page features ingestible CBD products, Facebook will ban the ad, but, you may be able to get ads approved if it's only a topical CBD cream.
Furthermore, your ad is not necessarily allowed to specifically feature your CBD products (even though we see Facebook ads doing so).
If this is your first CBD ad, it's best to go all the way out on a limb and go above and beyond on compliance.
Once you start getting the hang of it and Facebook starts approving more and more ads, you can start to stretch a bit beyond like other CBD ads are doing.
Regardless if you're following Facebook's advertising policy to the letter, there's no ultimate guarantee your ad will get approved.
Persistence is only one of the ingredients to consistently getting a CBD ad approved on Facebook.
How To Advertise CBD On Facebook 2021 – Critical Info To Start
If this is your first time trying to get a CBD ad approved on Facebook, you might bump into some issues going at it alone.
There are a handful of basic compliance strategies to be aware of as you're putting together your ad creatives for Facebook.
To start, you're not allowed to use "THC" in any of your marketing creatives — not even if you're mentioning your products are compliant with federal law containing less than 0.3% THC.
The Facebook algorithm can be a bit squirrely and if you're using certain words, the auto functioning bot crawlers will pick up on this language and consider it a facilitation of drugs.
In short, full compliance is your best bet in getting the ball rolling with Facebook CBD ads.
21 tips to increase your chance of getting your CBD ad approved by Facebook.
Don't use the words "CBD" or "hemp" in your ad, landing page, or entire website
Use related terms for hemp and CBD, such as natural, plant, healthy, etc.
Don't have CBD in your website, URL, or brand name — possibly not even hemp.
Have a separate website with no links to CBD or hemp.
Make sure your website is fully compliant: cookie notice, privacy policy, term & conditions, etc.
If your account is brand new, that might be an issue – Facebook takes factors in your account age when determining ad approval.
Have a relevant and functional landing page clearly representing your company, brand, and products.
Don't direct people to an unexpected landing page creating either confusion or a bad experience
Make sure your landing page has an optimal amount of quality content that's easy to access
Your landing page should direct to your website, not other affiliate link pages
Don't have excessive pop-ups or ads (recommend disabling all pop-ups on landing page)
Appeal a rejected ad to talk to a live person or try re submitting your ad
Audit your website and landing page to make sure there's nothing malicious
Avoid getting too many disapprovals because your account can get flagged and disabled
Don't target specific personal attributes in your ad
Avoid using the word you and other
Avoid shocking imagery
Don't make false claims
Don't make medical claims
Make it easy for users to navigate away from the landing page
Don't make it difficult for users to leave or close your landing page
After reading this short incomplete list of tips, you may be confused (and a little irritated) when you see other CBD companies NOT following these tips or other Facebook compliance requirements.
The hard and unfair potential truth is when you see the larger CBD companies using some of these no no words, is that they're giving Facebook a large chunk of money every month.
Compliance can be relaxed if the budget is large enough, however, with lots of CBD start ups with lower budgets, it's wise to begin with full compliance.
While every CBD company might have unique challenges to overcome in getting a CBD ad approved by Facebook, taking care of a few basics can drastically increase your chances of getting a CBD ad approved on Facebook.
Examples Of CBD Ads Approved By Facebook
Every day, we're bombarded with CBD ads on Facebook that are actually using the word "CBD" in both the text, image creative, landing page, and product pages.
In order to understand how other CBD brands are able to make this happen, there are two basic methods to explore getting CBD ads approved on Facebook.
The two basic methods for potentially getting CBD ads approved on Facebook are either hiring an experienced CBD advertising agency to help get ads approved or you can reverse engineer the ads other CBD companies are successfully getting approved..
Below, you can see a few examples of CBD ads approved by Facebook.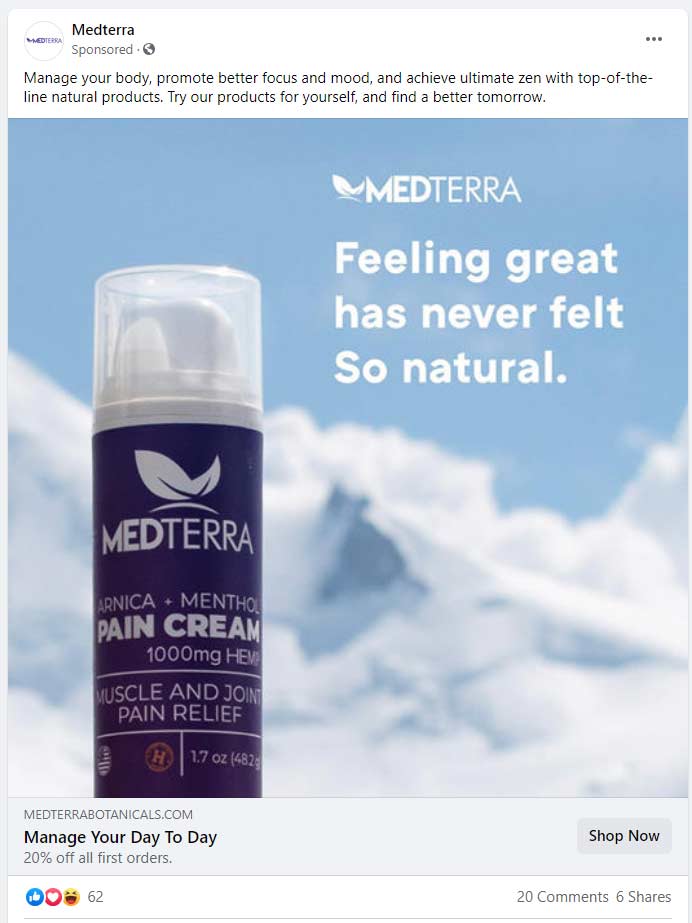 Link to MedTerra's landing page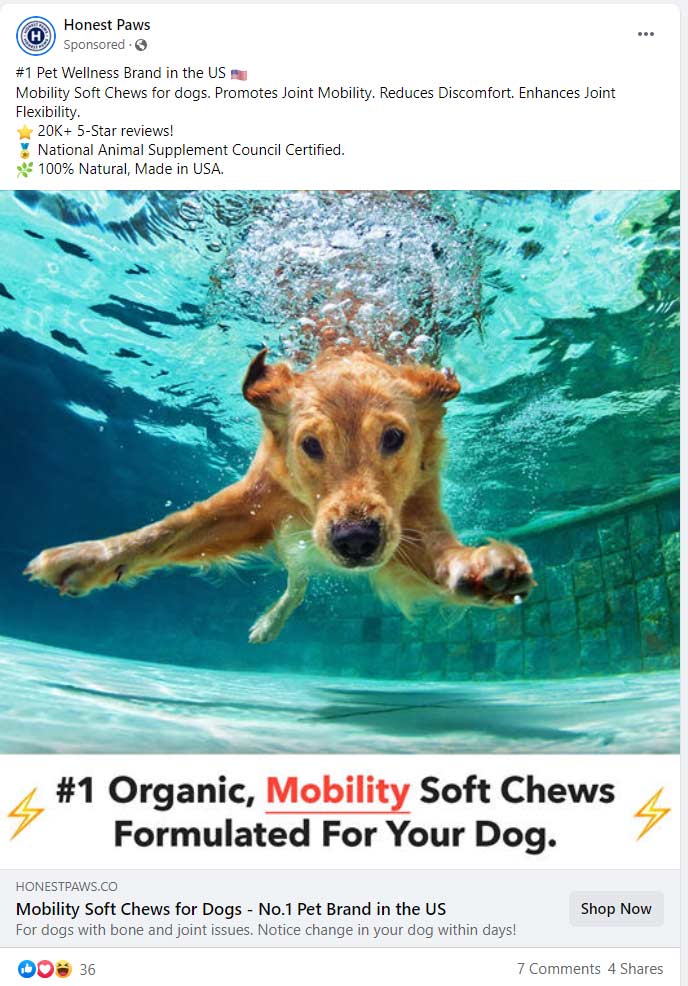 Link to Honest Paws landing page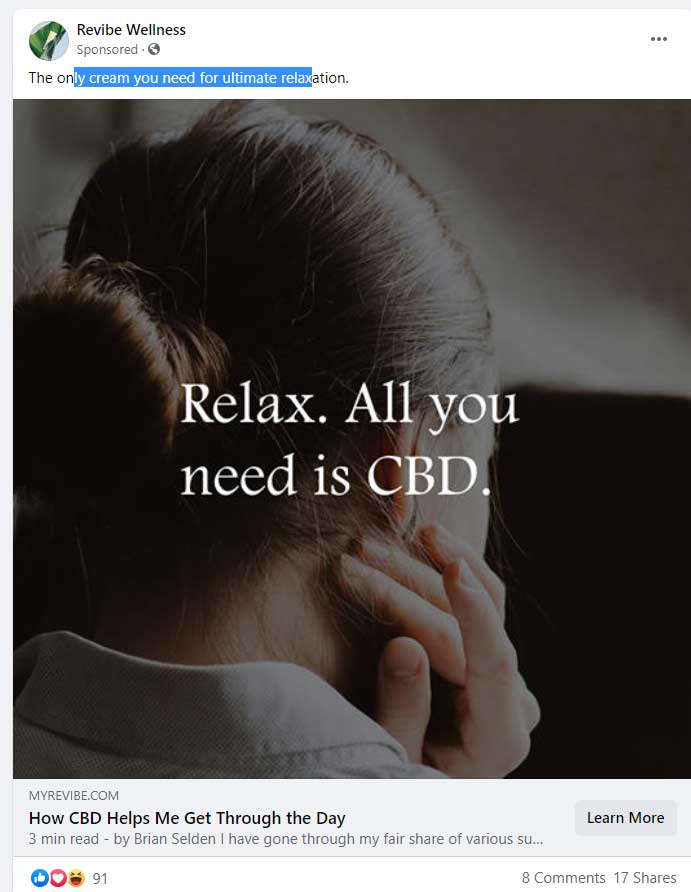 Link to Revibe Wellness landing page
Cost To Advertise CBD?
Even though Facebook and other social media platforms tend to be much more challenging to get ads approved, there are other CBD advertising strategies you can employ that might be more effective, simpler, and potentially more cost effective in the long run.
Most national CBD ad campaigns require a minimum of $20,000 per month, with a 60-90 day commitment — just to get started.
If you're going to build your brand and you want it to be successful for the long term, having a $100 a month (or day) budget might not be enough to make a dent against the increasing level of competition in the CBD space. 
For your CBD brand to exist long into the future, there are numerous advertising and marketing strategies (besides Facebook ads) you might need to consider — which we'll take a quick look at towards the end of the article.
Cost to advertise CBD on Facebook?
Facebook advertising costs vary based on clicks, impressions, competition, and more.
Not only do you need to pay Facebook to run the ad, there are other costs to consider.
Other costs associated with Facebook ads are the actual ad creative, the landing page, eCommerce functionality, and more.
Different ad agencies charge depending on what you need versus what you can accomplish in-house.
For as low as $2,000 or up to $10,000 and more, you can potentially hire a CBD ad agency to take care of the entire sales funnel.
One major challenge to be aware of is due to the increasing saturation within the CBD space, more CBD ad agencies are turning down prospects for various reasons.
A few reasons why a CBD ad agency might turn you down is because the budget is too low and they won't be able to help you cut through the noise of all the other CBD companies running ads.
Another reason, your CBD brand is too "generic" and there's not enough of a unique aspect distinguishing it from all the competition.
Finally, a CBD ad agency might turn you down, even if you have a $10,000 per month budget, due to you putting all of your marketing budgets into only one ad basket.
Even if you have a large budget, there are other factors to consider before going all in to compete with all the other brands looking to break into the market.
What's The Average Return On Advertising Spend (ROAS) For Facebook CBD Ads?
Your ROAS is the amount of money you get back after you've spent it on your ad campaign.
In general, anything less than a 3:1 ROAS is grounds for reviewing what you're doing.
However, with the level of saturation within the CBD space, while you're building your brand, it might be ok to accept a lower ROAS until you've found your sub-niche with the CBD industry.
6 methods to improve your ROAS.
Verify your metrics are accurate
Lowering ad cost
Review negative keywords
Optimizing landing page
Discover different keywords to target
Automated bidding
Due to the steadily increasing competition in the CBD space, there's not going to be a one size fits all solution.
If you're able to produce results with an in-house ad team, you can save money.
When in-house solutions become too complex, time-consuming, or you're just not able to convert clicks into sales — it might be time to consider hiring a CBD ad agency.
Are There Other Advertising Methods To Replace Facebook Ads?
Even though Facebook appears to be a giant ad powerhouse, the truth is there are countless other CBD advertising methods you can take advantage of to advertise any and all of your CBD products.
As long as your products and ads are in full compliance with the law, you can advertise CBD through several traditional channels.
Below, we'll point to a handful of advertising options CBD brands are using.
Marketing requires creativity, due to CBD existing in a bit of a grey area, this is more reason to flex your creative muscle to discover other legitimate advertising methods.
How Do I Advertise CBD — Without Facebook?
There are numerous methods successful CBD companies are employing to drive traffic and conversions.
You either need time or money to do what's required to invest in creating a CBD brand that's successful long-term.
12 other methods for advertising CBD.
Programmatic advertising DSP
Social Media – Organic & Paid
Search Engine Optimization (SEO)
Content Marketing (publish at least 1-2 blog articles per week)
Email Marketing
Offline Print
Guest Posting
Influencer Marketing
Community Building
Linked In
Alignable
Craig's List
Successful companies typically utilize a combination of several CBD marketing and advertising methods.
No CBD advertising agency will recommend you put all your eggs in one basket.
Are Blog Articles & SEO Better Than Paid CBD Ads?
SEO isn't necessarily better than Pay-Per-Click (PPC) ads, it's slower and a more long-term strategy that won't produce instant PPC-like results, but will generate long-term results.
Ads only get traffic if you're paying, while SEO gets traffic as long as the article is published — and properly optimized — on your website.
Paid CBD ads are only active based on the budget you set.
While SEO doesn't produce instant results like ads, publishing content is an investment into a long-term strategy yielding potentially lasting results.
Basic SEO strategies require.
A website with all the technical components working making it load fast
Relevant information based on your niche and sub niche
Authoritative information citing expert information
Consistent publication frequency with at least one or two posts per week
Competitor search analysis to make sure your creating content that's worthy of outranking the competition
To help manage your expectation with SEO strategy, once identifying keywords with high traffic and low competition, Google can take up to eight-month or more to rank on the Search Engine Results Page (SERP).
Some publications can start getting traffic in much less time, the truth is, only Google has accurate information — thus rendering "all" SEO tools ineffective due to complete inaccurate reporting.
Why Don't CBD Advertising Companies Just Run CBD Ads For Affiliates At Cost To Get Their Own Commissions From Conversions?
This question surrounds a similar set of questions while you're in the process of deciding if you can trust a CBD ad company to yield results.
How does an advertising company prove they will bring in sales?
If CBD advertising companies ran ads that made their client a ton of money, why don't ad companies just run ads at cost and make money for themselves through affiliate commission?
Isn't that how you prove your CBD ad company can get the job done?
The quick answer is, not necessarily because the percentage commission from affiliate sales isn't necessarily as big as the profit margins the owner of the CBD company will yield.
Since there's more to it than simply running ads everywhere, advertising companies are available with the expert knowledge of how to actually get the compliant ads approved.
It takes more than one campaign running for a grand total of one month to build brand awareness resulting in massive sales.
Each CBD company is targeting different audiences, with some overlap, seeking to be the best.
While the reality is the CBD space is an increasingly saturated market, it takes more than CBD ad companies having the ability to put your brand in front of lots of people.
Your brand has to not only stand out from the competition but also target certain audience segments that haven't been oversaturated yet.
CBD is in a constant state of change and requires constant fine-tuning to maintain ongoing success.
Why Are There Companies That Can Activate Ads On Facebook Using The Word CBD And Hemp?
Most of the larger CBD companies are spending a significant amount of marketing dollars to have their ads regularly display, not only on Facebook, but just about everywhere they're legally able to advertise CBD products.
Some hemp and CBD ads can be approved for much less budget, but you have to be real creative, fully compliant, and persistent with manual reviews.
While using the word hemp in your URL might be ok for some CBD companies, make sure your website's URL doesn't use the word CBD.
Other companies who are blatantly using the word CBD in their ad text, creatives, and landing pages might have a much more complex strategy and/or have hired a CBD ad company that knows the secret recipe for getting a CBD ad approved.
Is There Some Magic Number I Have To Spend To Guarantee My CBD Ads Get Approved? 
For Facebook to relax on CBD ads policy, the magic budget ad spend may require at least $10,000 per month, plus a certain account age, plus potential numerous other factors.
If you're considering a national CBD ad campaign, in general, and across several ad platforms, you need to have a budget of at least $20,000 per month — with a commitment of at least 60-90 days.
Some CBD advertising companies can get your ads approved by Facebook for as low as $2,000 per month — but only for specific products with a limited reach that requires hyper-local targeting to generate success.
Even if you're abiding by the rules Facebook outlines, there may be unknown reasons behind the scenes in Facebook rejecting your ads — such as a shadow ban or general account burn.
Although you may have a $10,000 a month advertising budget, if that's your entire marketing budget, you may want to consider putting your budget in multiple baskets due to Facebook's seemingly random behavior towards CBD.
Will Facebook Give Me Clear Explanations To Getting CBD Ads Approved?
Facebook is a giant company and if you eventually get someone on the phone to discuss CBD ads, you might not get a clean-cut answer that you can rely on consistently.
Each Facebook representative you speak with may give you different answers.
If you're fully compliant and you're doing all the right things with a proper consistent budget, Facebook might take the risk and allow you to advertise your CBD products.
You're not necessarily allowed to use the word CBD if it's an ingestible product, even though some Facebook ads allow it — in certain contexts.
Facebook might allow you to use the word CBD in your Facebook ad if you're not advertising an ingestible CBD product.
Furthermore, if the button or link you have on your ad goes to a landing page that's advertising ingestible CBD products, you'll most likely have that ad rejected.
Your landing page and the entire website need to at minimum be fully compliant with Facebook policy.
Even though Facebook can be unpredictable, there are several other CBD advertising options where you can invest your marketing dollars and time into that can be more reliable than Facebook ads.
Can You Mention The Word "Hemp" In Any Other Context In Facebook Ads — Hemp Paper, Hempcrete, Hemp Milk, Etc?
The general rule is you're allowed to use the word hemp, even if it's an ingestible product.
If your landing page and the entire website doesn't have the word CBD in it, your ad should be approved by Facebook without any issue.
Should your Facebook ad not get approved, there's a manual review process you can take advantage of to have an actual human decide whether or not your hemp-only ad is compliant with policy.
With a fully compliant ad funnel, your ad should get approved by Facebook without any issues.