CBD keeps booming in popularity, leaving many with questions about how much they should take on a day to day basis.
This free CBD dosage calculator show you exactly how many mg are in a drop of CBD oil. Next is a CBD dosage chart for you to easily see how many drops of CBD oil you should take. Finally, we'll explore common questions new and experienced users are asking about dosage with various methods of taking CBD.
Let's dive in! To use the CBD oil dosage calculator, enter the size of your bottle in milliliters (mL) and then type in the total amount of CBD. The tincture calculator will then tell you exactly how many mg are in a drop of CBD oil.
——————————-
Medterra Ultra Broad Spectrum 1,000mg is my #1 recommended CBD oil tincture.
See our list of Idaho's 5 Best CBD Products For New & Regular Users for any occasion.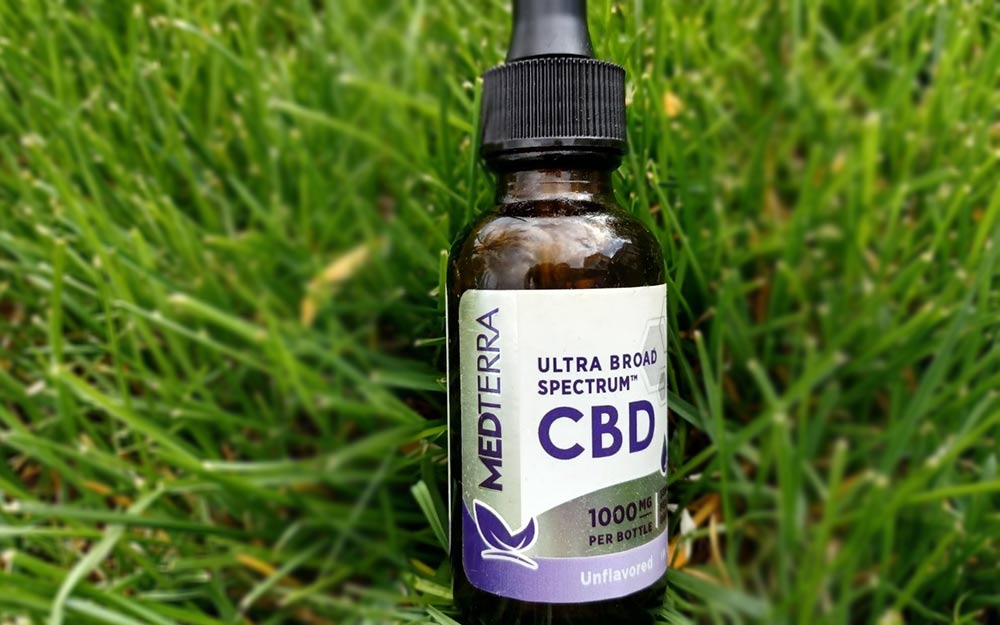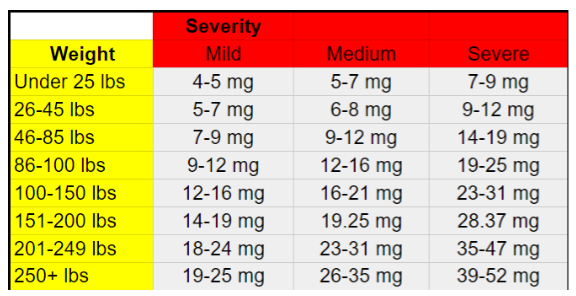 How did I create this list of frequently asked questions about a CBD dose calculator?
I consolidated this list of common questions CBD users are asking to help them better understand how much CBD oil they're taking with each drop.
What is a CBD dosage calculator?
A CBD dosage calculator is a tool that help you identify how much CBD other people are taking on average for their weight.
In general, most users succeeding in finding their optimal dosage start on the lower end and slowly increase their dosage until they find relief.
With each CBD product having different potencies, a CBD dosage calculator can easily help you find the perfect dosage to get you started, as well as helping you fine tune your serving for different occasions.
How did we create this CBD dosage calculator?
Calculating how many mg are in a single drop of CBD oil is calculated by using a simple math equation.
Since each bottle of CBD is a little bit different, to find your CBD dosage, enter the size of your bottle and total amounts of CBD listed on the label. The CBD dosage calculator will show you how much CBD is in a single drop of CBD oil — as well as how much CBD is in a full dropper. 
Use the free tincture calculate above to figure out how many mg (milligrams) of CBD is in each drop of CBD oil.
Learn more: Does CBD Show Up On A Drug Test? What You Need To Know
NOTE: Every bottle of CBD will have a very slightly different amount of drops of CBD oil – per FULL dropper. The calculator below is based on an average amount of drops. There are on average approximately 33-44 drops of CBD oil per FULL (1) mL dropper.
How much CBD oil should I take?
Below is a generalized chart to help you determine your CBD dosage by weight.
Once you figure out how much CBD is in each drop of oil, you can use the graph below to get a general idea of how many drops you might need for your body types.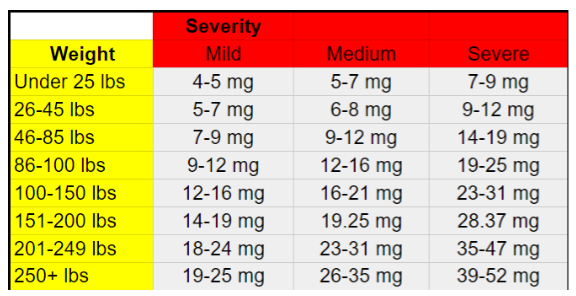 This CBD dosage chart above is recommended for broad-spectrum CBD products only.
Below, I discuss why CBD isolate products are not recommended.
WARNING: For CBD Isolate Products
After attempting to find an authoritative medical journal providing information on CBD dosage information, what I ended up finding was dosage information for CBD isolate products.
The PROBLEM with CBD isolate products is CBD isolate products typically require a LOT higher of dosage to get an effect, but it also requires a highly precise dosage.
According to the British Journal Of Clinical Pharmacology (BJCP), the "effective" dosage for CBD isolate products is different for each person, and each situation requiring relief.
The extensive review in this medical journal investigates the various CBD isolate dosages applied in various clinical settings to get a more accurate pulse of the various ranges of CBD isolate required for different situations.
After evaluating over 1,000 medical journals, of 1,223 participants, the BJCP found a significant improvement to normal healthy function with the CBD isolate dosages ranging from anywhere between less than 1 mg/lbs/day to all the way up to 22.68 mg/lbs/day. In this journal, they showed their results using the metric system and displayed the CBD isolate dosages as such (<1 and 50 mg/kg/d).
The average CBD isolate dosages reported in this extensive review was 6.8 mg/lbs/day (15 mg/kg/day).
Low CBD isolate dose averaged out as 1.09 mg/lbs/day (2.4 mg/kg/day)
After thinking about this information provided by the BJCP, I did a quick calculation and discovered some startling information.
Since I weight about 150 lbs, according to the data from medical journals on their CBD isolate product, I would have to take 1,020 mg of CBD per day – OF A CBD ISOLATE. This makes ZERO sense – at least in my very humble opinion.
GOOD NEWS. When you take a broad-spectrum CBD oil, it's loaded with up to 112 different cannabinoids (minus THC).
What makes having 112 different cannabinoids 100% better than a CBD isolate start becoming obvious when comparing it to the research performed on CBD isolate products.
When taking a broad-spectrum CBD, you don't have to take as much as you would with a CBD isolate product.
CBD isolate products have to overcome the bell-shaped dose-response curve.
This research goes into extensive detail about how CBD isolates have a very narrow window of effective use and require a very precise dosage to achieve a minimal response.
Why use broad-spectrum CBD and not CBD isolate products?
One of the reasons why I choose Joy Organics CBD and MedTerra product is because they're hyper-focused on maintaining full compliance with the law. A quality — fully compliant — CBD company will not make any claims to CBD helping or curing or treating disease.
Most CBD companies you can quickly find on Google are making all sorts of medical claims and dosage recommendations to specific diseases.
In order to be in compliance with the law, you can't make any specific dosage recommendations for specific diseases.
The best guidelines available for how much CBD you should take for your situation recommend starting with the lowest possible dose and then gradually increasing until you're getting the results you're aiming for.
A good low CBD dosage to start at is one or two drops per day and then increase your dosage by one or two drops every week or two.
Since everyone is different, it's best to figure out what dosage works best for your situation.
My experience taking two full droppers of Joy Organics CBD oil.
Over the past month or so, I've been having SUPER vivid dreams. In these very real dreams, I am doing WORK – ALL NIGHT LONG.
In fact, for some reason, these dreams feel like more than one whole night.
When my dreams are THIS vivid and I'm working/struggling to achieve something.
Some of these super vivid dreams involve me being on two or three-hour-long conference calls, or I'm traveling to do business with a client, etc.
On and on and on, these dreams feel like an ETERNITY.
For some reason after having these intense dreams all night, I wake up feeling COMPLETELY exhausted.
Even though I was "asleep" all night, in my dreams, I was WIDE AWAKE — DOING WORK!!!
Something had to change.
Last night, I wanted to have some normal sleep. Aka, RESTFUL sleep where I wake up actually feeling like I had some sleep.
What I decided to do was take two full droppers of Joy Organics 450 mg CBD oil tincture (natural flavor).
Two full droppers of this was about 30 mg of broad-spectrum CBD oil.
For my body size (150 lbs), according to the CBD dosage chart above, I took a "severe" CBD dosage.
Long story short, I slept like a baby. In fact, I slept SO good, I wanted to just keep sleeping when it was time to get up.
I honestly might have taken a wee-bit too much because it took me just a little while to wake all the way up.
How I felt after I got all the way awake was simply amazing.
I'm rested, I feel great, I can operate normally, and most importantly.
The normal sleep that I got was the best part. NORMAL SLEEP!
Can you take too much CBD oil?
Can you overdose on CBD?
Research shows, large doses of CBD is reported as safe in humans.
Large CBD doses — up to 1,500 mg per day — is shown to be very well tolerated in humans in repeated experiments.
There's not much risk in worrying about whether or not you can take too much.
The general recommendation for taking CBD oil is to start at the lowest dose possible and slowly increase your dose every week or two until you achieve the results you want.
How long does it take for CBD oil to be effective?
Each method of consuming CBD is different.
A typical amount of time you can expect for CBD to take effect ranges between 20-40 minutes.
Some sources say you should take CBD consistently for up to three weeks before you start to really notice the results you're looking for.
In order for the CBD to properly build up in your system, you might need to persist for a few weeks to get the proper amount built up and working at peak efficiency.
How much CBD is recommended to start with?
Each person will require a different amount to yield the result you're seeking.
Most sources will say to start slow and increase gradually.
Recommendations CBD doses are, to begin with, 1-2 drops and increase 1-2 drops every 1-2 weeks.
What's the best quality CBD oil brand you recommend?
Most CBD brands on the market you can quickly Google are PRETTY GOOD.
In fact, there are not too many CBD I wouldn't recommend for the majority of people.
In Idaho, however, we are severely limited to the amount of "quality" CBD oil brands that are available.
Due to strict Idaho law, our legal CBD oil must not have any amounts of THC in it.
If Idaho authorities test your CB oil and it has even a little tiny trace amount of THC, they will consider it to be ILLEGAL MARIJUANA and you might be prosecuted as such.