We created this list for the new and experienced CBD users who live in Idaho or are soon looking to visit/move to our great Gem state.
Today, we put together a helpful list of some of our top five favorite products, one list of Joe's favorite and another for Cinda's most enjoyed CBD goods.
Our picks for the best CBD products in Idaho for new and seasoned users May 2022 Update.
Joe's Top 5 Favorite CBD Products & Why I Love them
Learn more about Joe Powers.
I've first started taking CBD right around the time cannabis legalization began.
After trying countless products from many companies, I've narrowed down my list to these few.
How I identified my favorite products is based on the products I always seem to have sitting on my shelf that I use every day.
I'm always open to trying innovative products, especially if they're on sale. However, I find I stick to only a few basic products that I can use in many situations.
Here's my top five list of my favorite products that are easy for new users and powerful enough for more experienced consumers.
Calculate your CBD Dosage with our FREE Tincture Calculator.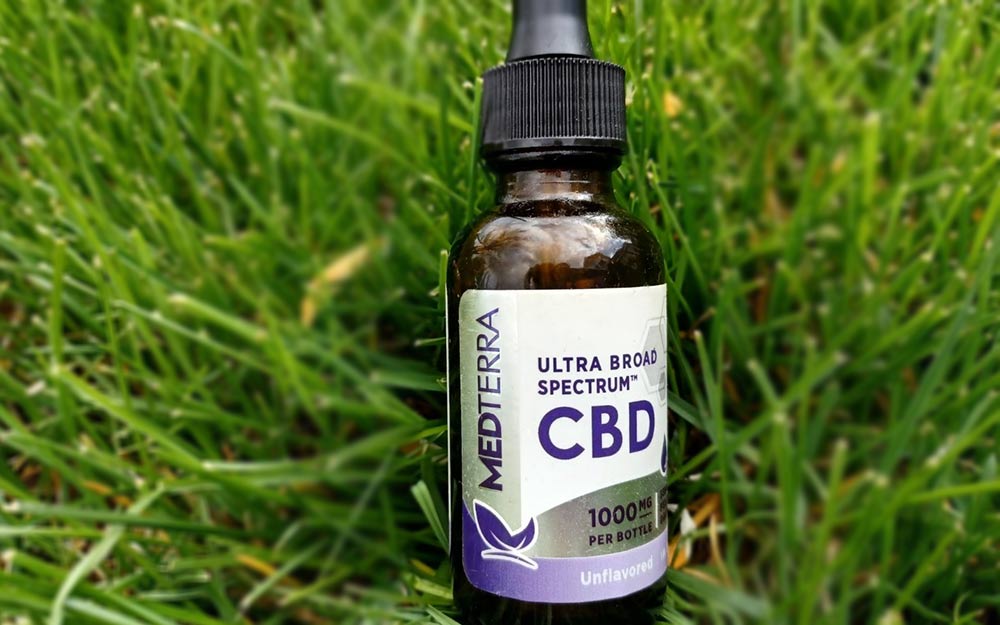 Medterra's Ultra Broad is my all-time favorite CBD product for several reasons, because it's the most potent product I've can find on the market AND it's legal in Idaho.
Potency is more than having a LARGE amount of one cannabinoid.
What makes Ultra Broad super potent is there are a TON of other cannabinoids that provides the benefits of the Entourage Effect to create synergistic results.
In short, this effect says that cannabinoids work better and more powerfully together by interacting with each other for added benefits.
Lots of users like having added flavor in their tinctures that make it taste better and easier to consume every day. Caution, I've noticed some brands use essential oils for flavoring and I've heard that since essential oils are very strong, it's not recommended you consume these potent essential oils daily.
My preference is not added flavor because I'm able to use the unflavored version for several applications that I wouldn't be able to if there's added flavor.
Unflavored CBD tinctures let you put the oil inside of your ear, on your skin, and on minor open wounds.
Learn more: Can You Put CBD Oil On An Open Wound?
Learn more: Can You Put CBD Oil In Your Ear? A Detailed Guide
If you're looking for a tasty tincture, Medterra's Ultra Broad has Unflavored, Citrus, and Strawberry Mint flavors in 1,000mg and 2,000mg strength options.

Joy Organics unflavored is my second favorite and is on par with Medterra's Ultra Broad.
What distinguished Joy Organics from Medterra's broad spec is that Joy Organics tincture is Certified USDA organic.
Learn more: Why I Choose Joy Organics?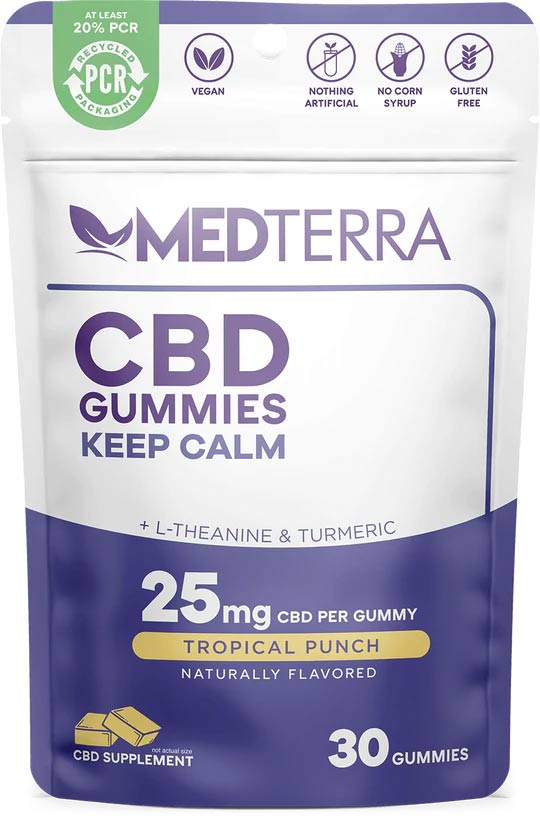 After trying my first CBD Gummy, I was hooked! 
Even though I like tinctures a wee-bit more, CBD Gummies are surprisingly effective, imo, for nighttime use.
CBD Gummies pack a powerful punch and I find I enjoy taking them a few hours before it's time to hop into bed for the night.
There were a few times I took a CBD Gummy right in the morning or mid afternoon and I got TOO relaxed, sleepy, and a tad irritable.
Learn more: CBD Causing Irritability? Can CBD Oil Cause Aggression Or Anger?
A single gummy is perfect for me for added relaxation in the evening and I use these regularly.
I only tried gummies a few times during the day and I didn't like them because they worked a little too well.
Since everyone has different body types and there's no exact one serving size that fits everyone, I recommend you start with a moderate amount (half gummy or less) and slowly increase until you find your sweet spot.

I recently started taking a strong liking to Green Roads because of their superior quality and large variety of CBD products.
Green Roads is friendly for those new to CBD by offering a convenient Beginner Sample Pack.
CBD products under $15 are a great way to dive into the world of CBD by picking up several small sample sizes to try out with the intention of discovering what you enjoy using the most.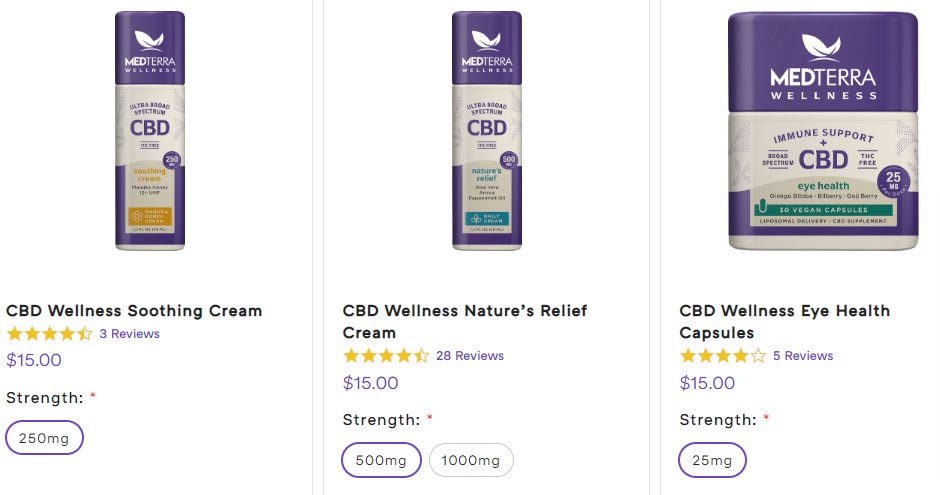 Even though I have my favorite products, I'm always open to trying new products that are on sale.
Very often, I'll pop onto the deals page on Medterra and Green Roads and there will be $100 products on sale for 90% off!
When I see deals that are THIS good, I find these products falling into my shopping kart, almost automatically.
Recently, I bought Medterra's Apple Cider Vinegar Gummies (no longer available) and I love them! I'm a little bummed they discontinued them, but I'm super excited I picked up a giant bottle for CHEAP!
If you're looking for a good deal, keep an eye on these two pages.
Products that pop up on these pages can quickly sell out.
Cinda's Top 5 Favorite CBD Products & Why I Love them
Learn more about Cinda Nevarez.
I enjoy finding unique natural products that allow me to be my best self no matter the time of day. CBD came into focus after realizing it enhances a person's lifestyle mentally, physically, and spiritually. 
Plus, I'm getting older. Getting older allows me to realize I need more energy, more sleep, and more time to recover from fitness activities. 
Considering these obstacles that lay in my path, I found amazing CBD products to get my body over these humps. 
They are quality, affordable, and do the job I need it to do. You'll find they may work for you or it may not work for you. Trying this is your best way to identify if they can give you the boost you need to thrive in life.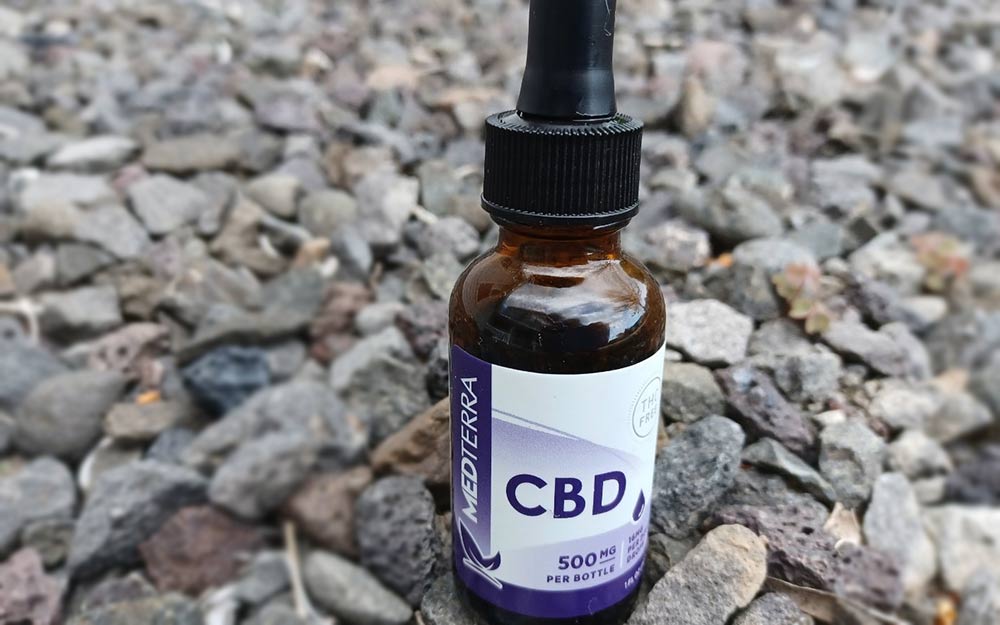 Medterra CBD Oil Isolate delivers a distinct way to incorporate CBD into my life. I can measure the dosage I need exactly that won't hinder the effectiveness of it. 
I will usually use this either in the morning or before bedtime, depending on how I'm feeling around these times. 
The CBD Oil has 500mg per bottle with 16mg per drop dosage. They are THC-Free and are legal to consume in Idaho. 
The tincture ingredients are cannabidiol (CBD), medium-chain triglyceride (MCT Oil), and certified organic. 
If you're one of those individuals looking for pure CBD only, then you can't go wrong with this oil, especially if you live in Idaho! 
Medterra has myriad of CBD collections for everyday use and their CBD isolate capsules are my go-to since it contains MCT Oil, alongside CBD. 
It works the best for anytime of day and for overall relaxation. Currently, I'm using it to soften my mental cloudiness due to my everyday computer lifestyle. 
I'm always staring at a screen and often my mental state becomes overly drained after a few short hours of working online. Also, I'm using it to see if it can enhance my focus to prolong my work hours.
So far, I've been consuming 1 capsule per day and may increase to two to see the results. 
You can use the CBD isolate capsules no matter what you are doing throughout the day since it only requires you to consume a capsule with water or other form of liquid. 
It comes in 30 vegan capsules with 25mg of CBD inside a purple and white container. It's an isolate with CBD, MCT Oil, and bovine gelatin for capsule enclosure. 
Lately, I've been making sourdough bread from scratch that takes a lot of kneading, until the next day a painful soreness engulfs my shoulder to my elbow. Thus, the CBD Topical Cream Relief Broad Spectrum came to my attention. 
Who wants a sore arm? I can't function with my right arm without adding CBD to the desired area. It's not fun dealing with it at night either, so consuming CBD and applying it delivers the strength for fast acting healing. 
Joy Organic's Orange Bliss tincture is tasty and satisfies my need to relax at the end of a long work day. 
It contains MCT oil, phytocannabionid CBD, and orange essential oil. The ingredients are all organic and effortlessly ingestible. 
The best time of day to take this for me is in the evening before dinner. I won't ingest a tincture incorporated with orange essential oil every day, but I will three times a week. 
It's not recommended to consume a CBD tincture with an essential oil every day. Since the essential oils are strong and potent, you may receive unwanted effects from it. 
I give the product a thumbs up, because most tinctures don't incorporate essential oils to flavor it. Some will use natural flavoring from unwanted sources that no one has any idea where it comes from. 
With this tincture, you can ingest it, knowing the essential oil will do more good than harm. It's best to consume two to three times a week to enhance anyone's lifestyle. 
Now Green Roads Chocolate Bar CBD is on my list to try, considering it's on $15 and under sale and contains pure natural ingredients with only two grams of sugar! 
The chocolate bar contains 180mg in an entire 12 piece bar with 15mg CBD per piece. I consume chocolate a few times a week after dinner, so consuming this won't be a challenge. 
Considering the ingredients are pretty good, especially for my extreme health-conscious lifestyle, I'm adding these to my routine as I write about it! 
Ready To Learn More About The FAQ Of CBD Products In Idaho?
Let's dive in to some of the most common questions we hear about CBD products in Idaho.
Even though there's a ton of information online, in the news, and on TV from "reputable" sources, most information coming out about CBD in Idaho is flat out wrong and can put Idaho residents in harm's way.
We did our best job at compiling a list of relevant questions Idaho locals need to know before they consume CBD products regularly.
How Did We Create This List Of CBD Products For Idaho Residents?
We create this list of CBD products that are legal for people living in the state of Idaho.
After verifying the CBD product has zero THC in it, our next criteria are to make sure they're quality goods.
How we verify quality is by making sure they tested each batch in a lab by a certified third party facility.
Each product we share on our short list has thorough lab testing results published on their website and a safe and free of THC.
Learn more: How To Read CBD Lab Testing Results? (Infographic)
Safe products for Idaho have no detectable amounts of any isomer of THC.
Is CBD legal in Idaho?
Idaho law allows CBD products that have zero amounts of THC or any of the various THC molecular variation.
Learn more: Did President Trump Approve CBD Oil?
When looking at a lab test, you'll notice there's at least four different types of THC labs can test and identify.
A few types of illegal THC molecule isomer variations are THCV, THCA, THCVA, delta 9 THC, delta 8 THC, delta 10 THC, THC-O, etc.
A quick caution.
Cannabis companies are getting clever and are finding creative ways to change cannabinoid molecules to manufacture psychoactive products that are technically federally legal, but are most likely not legal in Idaho.
One of these trending new psychoactive cannabinoids emerging is HHC. 
HHC is created by adding a hydrogen molecule to delta 9 THC.
By slightly changing this molecule, some legal experts say it's now legal at the federal level, however, many states aren't falling for it and are quickly making explicitly banning these newer designer cannabinoids.
Can I Have CBD In Idaho?
Several brick and mortar stores throughout Idaho are selling CBD product.
What makes buying CBD products from a physical store is its challenging to verify quality as you're shopping around.
While you can buy CBD in Idaho and legally possess it, if there's zero THC, you may want to obtain your goods from a quality, reliable source.
Often, I'll see gas stations selling CBD brands that I've never heard of and are typically cheap knock off products that have little to no effect.
When ever I hear someone saying that CBD didn't work for them, the first question I see people asking is what brand they're using and where did they buy them?
Is Full Spectrum CBD Legal In Idaho?
No. Full spectrum has THC in it and is illegal in Idaho.
WARNING. Even if you accidentally order a full spectrum CBD product by mistake, most companies will still ship it to you because they might not know Idaho has strict CBD laws.
Learn more: Is Full Spectrum CBD Oil Legal In Idaho?
One CBD company's co-founder flat out said they don't care if full spectrum CBD is technically illegal in the state of Idaho because it's legal at the federal level.
What this means is that the bad company won't get in trouble for sending you a federally legal product, BUT, you as the person in possession of the illegal substance in Idaho can get in trouble because you're in Idaho with a product that's not legal in Idaho.
Learn more: What Is Full-Spectrum CBD Oil? What You Need To Know (Hint: Illegal)
Does CBD Oil Show Up On A Drug Test Idaho?
Only full spectrum CBD oil can show up on a drug test because full spec has up to 0.3% THC.
Types of CBD products.
Isolate: PASS
Broad spectrum: PASS
Full spectrum: FAIL
If you're using a product that has zero THC, then you won't fail a drug test.
Routine drugs tests only look for if you've taken THC.
There's currently no standard drug test looking for CBD because CBD is a federally legal substance.
Learn more: Does CBD Show Up On A Drug Test? Critical Data You Need To Know
If you're concerned about passing a drug test, make extra sure you're taking a broad spectrum or an isolate product and NOT a full spectrum.
How Old Do You Have To Be To Buy CBD Products In Idaho?
Most companies restrict purchasing CBD products to 18 years and older.
How Do New Users Take CBD?
How you specifically take CBD will depend on the type of product and it is typically straightforward on how you consume or apply it.
Tinctures are usually taken as drops under your tongue, swallowed, or applied topically.
Edibles, like gummies, chocolate, etc are simply chewed and swallowed.
Pill capsules are swallowed.
Topical creams are applied directly to the skin and are not recommended for internal use.
How Does CBD Oil Make You Feel?
CBD primarily makes you feel at ease while providing overall sensations of relaxation.
Depending on how much you take, lower doses can perk you up and smoother out your day, while larger serving sizes can give you a super soothing experience where every part of you just wants to go lay down and sleep.
Can You Take CBD On An Airplane In Idaho?
The Twin Falls Police Department recommends you don't take CBD to the airport and on an airplane. 
They recommend you wait until you reach your final destination and purchase your CBD there or have it shipped to you in advance.